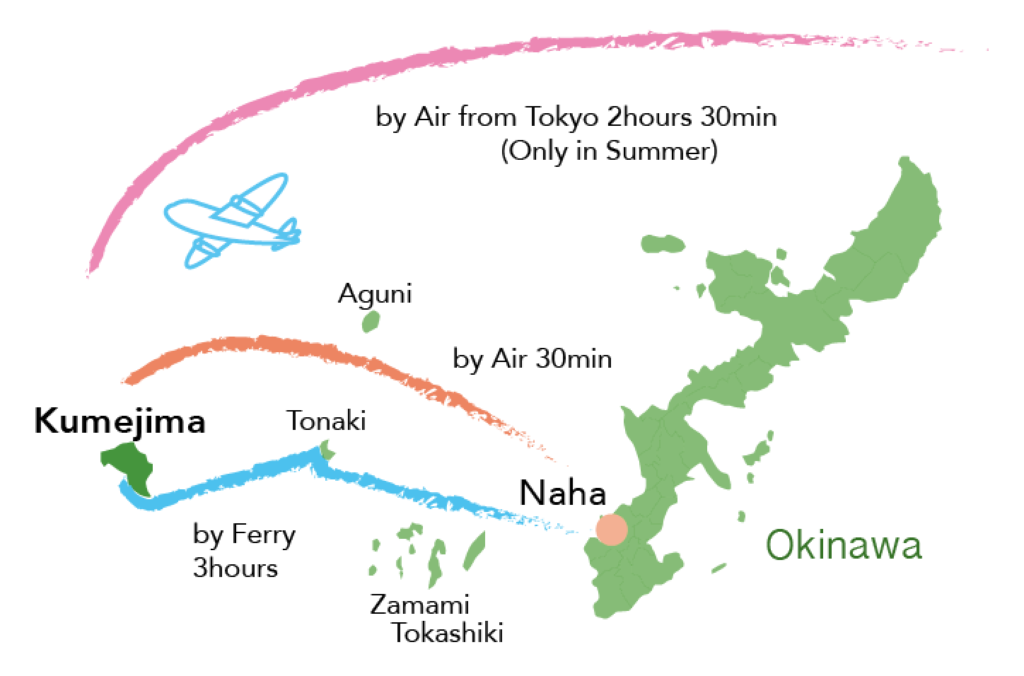 "Kumejima" is the remote island located in Okinawa, Japan.
It is about 30 min by air from the Naha airport or 3.5 hours by ferry.
1 Come into Japan
If you fly into Japan , the international air port will be the Narita, Haneda, Kansai and so on.
2 Come into Naha in Okinawa
If you come by air, you must fly into the Naha air port.  A cruise will be the other popular way to get to Okinawa.
3 From Naha to Kumejima
By Air : about 25 Min by air plane from the Naha air port to get to the Kumejima air port.
Flight information : The Kumejima air port

By Ferry : about 3 hours by Ferry from Tomarin port in Naha.
Ferry departs the TOMARIN port in Naha twice in a day except for Monday,
(It departs at 9:00AM on Monday)
Ticket will be available at the TOMARIN port.
Please notice the operation status depends on the sea conditions.

<Ferry schedule>
To Kumejima
Depart Naha; 9:00 --- Arrive Kumejima 12:30 (Everyday)
Depart Naha; 14:00 --- Arrive Kumejima 17:00 (no service on Monday)

To Naha
Depart Kumejima; 9:00 --- Arrive Naha 12:30 (Everyday)
Depart Kumejima; 14:00 --- Arrive Naha 17:00 (no service on Monday)

For more latest details, Schedule and Fare,
please check Web site of ferry company: KUME SHOSEN